Portrayal of Swedes with Roma background
We are happy when government agencies turn to us because they see our work combining documentary drama and strategic communication as a way to create public engagement and inclusion.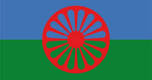 The Swedish government has adopted a 20 year strategy to address issues relating to inclusion of Swedes with Roma background into society and to combat discrimination. We are commissioned to create a documentary drama in connection with the pilot work of five Swedish municipalities. The piece will premiere at a national conference in June 2016.
The play is commissioned by Stockholm County Administrative Board (Länsstyrelsen i Stockholm) and the government coordinator for the strategy of Roma inclusion. www.romskinkludering.se
Contact us if you want more information!